"Environmental awareness and sustainability are the cornerstones of our genetic heritage as a company. That is why we work hard, every day, to improve our environmental and social impact. We invest in research and innovation to achieve solid results and include them in our production processes. We reduce energy and material waste, and we use alternative products, certified raw materials, and cutting-edge technologies.
We select innovative and eco-sustainable yarns, fibers, fabrics, and paddings, without compromising on thermal performance, water-repellence, or durability".

Francesca Lusini, President of Peuterey Group
THIS IS OUR RESPONSIBILITY
Peuterey, with its three icons, marks the path it has chosen to pursue, with the goal of ensuring a sustainable future to the People and the Planet. Here, we will share news on our impact and on our responsible behavior.
This is why we invite you to explore these pages and follow our same path.
PRODUCT

PRODUCT
The heart of our company continues to beat in our headquarters here in Tuscany. We come from a region where the enchanting natural landscape lives side by side with the beauty of human art and creativity.
We were born and raised here, fed by this balance, by the wonders all around us, and by what we do and want to be.
At the very beginning, nearly thirty years ago, we chose the name;Geospirit for our company, to convey the brand's philosophy and evoke the spirit of the earth. Even then we were planning, designing, and taking those first concrete steps to protect the Planet and its species.
As a Bluesign® SYSTEM PARTNER, the Peuterey Group undertakes to meet the most stringent criteria in terms of sustainability, specifically with regard to resource efficiency, environmental impact, health and safety in the workplace, and consumer protection.
Applying Bluesign® Input Stream Management eliminates the use and release of harmful chemicals along the whole production chain. Bluesign® SYSTEM is the most stringent standard for the textile industry, and choosing to implement it means meeting these criteria without compromising the efficiency, quality or design of our products.
Every day, in the name of a #betterfuture, Peuterey also commits to stopping the irresponsible consumption of natural resources, following the principles of circular economy..
To us, sustainability means concrete actions. Peuterey products are made to last; they also have a 24-month guarantee and continued assistance for maintenance, care and repairs
For a more detailed look at the sustainability of our products and materials, continue to Peuterey Features!
PEOPLE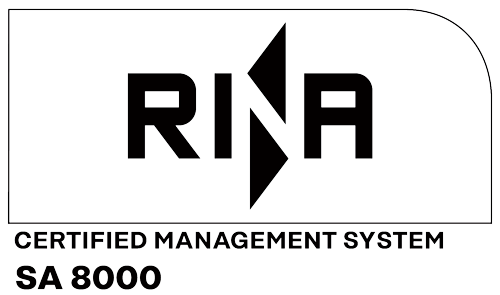 PEOPLE
At Peuterey, working for a better future means investing in people and promoting their well-being and professional growth. That is why lifestyle and working hours are also part of our approach to sustainability.
What brings us together is sharing the values that guide us. We work together with confidence and enthusiasm, looking at the Planet with respect and towards the future with responsibility.
We are committed to recognizing the value of people's differences, since these are what encourage discussion, stimulus, and growth. We invest in training young talents, by working with the most important academic facilities (Istituto Marangoni, Master in International Business - Università Cattolica, IULM University, Accademia del Lusso) because we believe in hard work and merit. We support equal opportunities because we choose to guarantee everyone the chance to develop their full potential, as people and professionals.
At Peuterey, people are at the heart of our projects. And their response in terms of motivation and commitment make us increasingly aware, every day, of the value of choosing to have a positive impact on society.
We scrupulously abide by these principles, and constantly strive to improve ourselves. Through the SA8000 – SocialAccountability certification, we adhere to the highest social standards, and expect our partners to do the same. Also, we communicate them transparently in our Annual Social Sustainability Report
Procedure against Child Labour    –    Code of Social Responsibility
2020 Social Accountability Report    –    Social Responsibility Management system
2021 Social Accountability Report.    –    Company Policy Against Harassment in the Workplace
2022 Social Accountability Report.    –    Company Policy on Gender Equality
MISSION
We have been concretely pursuing sustainability for some years now. The Awareness Era is here, and we want to play an active part in promoting it. We have been reducing our products' impact on the environment by integrating research, cutting down on waste, recycling materials, and choosing partners who share our own standards of social and environmental responsibility.
The goals we have set ourselves for safeguarding the future are both extensive and people-friendly. We have decided to invest in gender equality because every human being, indiscriminately, should be guaranteed the opportunity to realize their full potential on the basis of merit. We invest in training in order to nurture talented young people who care about the future of the Planet.
We also try to create solid and lasting partnerships with those who share our same values and mission, because we are convinced that the more we are, the faster we can achieve our goals. All this because we believe that collective responsibility is perfectly compatible with creative fervor. Only in this way can we once again give society fashion that is functional, of real substance and designed to last.